At AIDS 2018 Conference "FOCUS-MEDIA" Foundation presented the results of the project "Training of gynecologists to counsel women on HIV infection".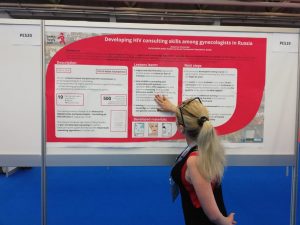 The goal of the project is to prevent sexual and perinatal routes of HIV transmission by developing the skills of gynecologists to counsel female patients. The project also helps to reduce stigma and discrimination against HIV-positive women by gynecologists, to mobilize local communities of HIV-positive women and to involve them in the work with physicians.
1 handbook for professionals was developed and published.
3 booklets for women on reproductive health care, pregnancy planning in case of HIV infection, etc were developed and published.
8 regions of Russia.
16 cities of Russia.
19 training sessions.
500 obstetrician-gynecologists, pediatricians, neonatologists, psychologists and other medical specialists working with women.
The results of the project showed that:
gaps in knowledge about HIV infection and lack of counseling skills contribute to forming stigma on HIV-positive patients and failure to provide effective care
stigma and discrimination against HIV-positive women is caused by the fear of getting infected when working with patients living with HIV
lack of counseling skills and equal cooperation with patients leads to the failure of pre- and post-test counseling, which reduces the patient's adherence to timely chemoprophylaxis to reduce the risk of perinatal route of HIV transmission. Training in counseling skills increases the capacity of professionals and stimulates partnership with patients.
The project has been implemented by the Foundation since 2014. More information on the project
The poster "Development of HIV counseling skills of gynecologists in the Russian Federation" with the results of the project was presented at the 22nd International AIDS Conference.